Confirmed
Hybrid TEAM Collaboration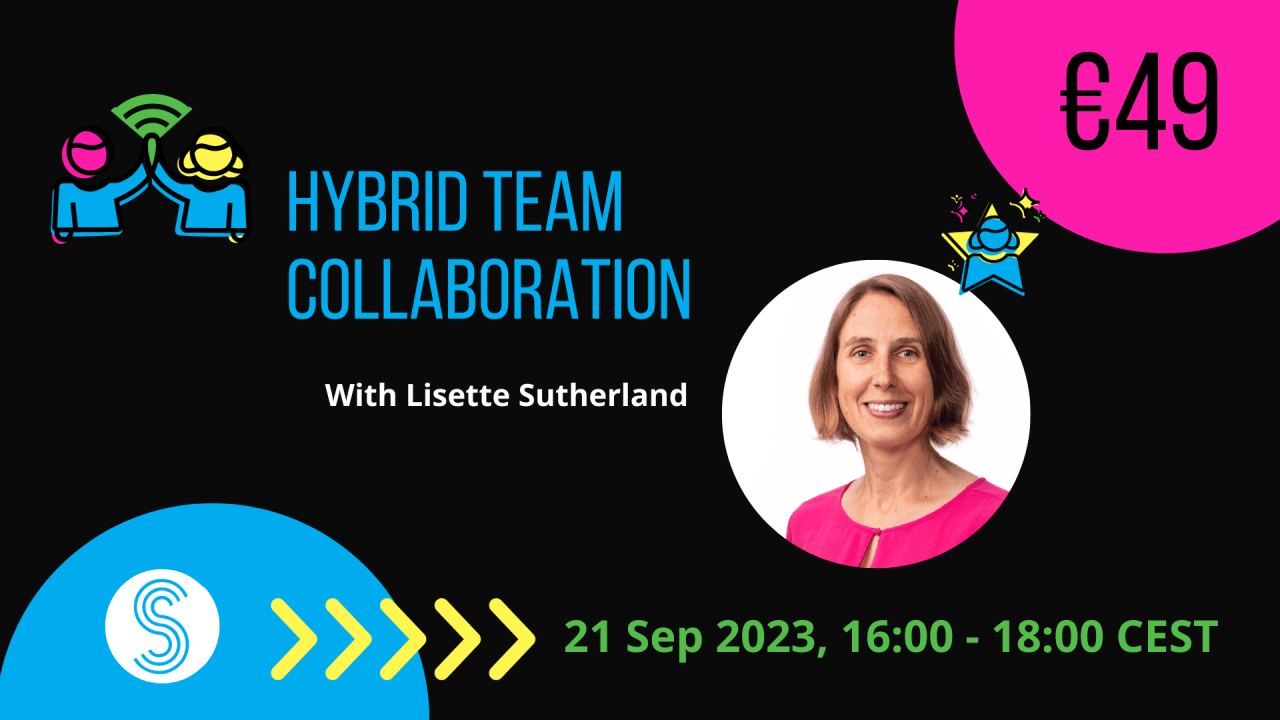 Online
September 21, 16:00 — 18:00 CEST
Hybrid Team Collaboration
There is more to a successful remote team than just attending meetings and completing tasks. In order to create a collaborative workplace online, we have to focus on different things to combat the "out of sight, out of mind" mentality, and increase that sense of team.
In this workshop we explore how to better collaborate online, and the various tools and techniques for building trust and increasing camaraderie online.

Specifically, you will learn:
Management and leadership techniques for hybrid teams
How to agree on results and expectations
How to reduce the meetings you need, and improve the meetings you have
Tips for team building at a distance
What you get:

Slides & summary of workshop content
Personal user manual guide
Team agreement canvas
Resources for productive hybrid meetings
Who this workshop is for:
Senior Managers
Human Resource professionals, hiring managers, corporate change leads
Facilitators and coaches working with remote teams
Agile coaches and Scrum Masters
This is not a webinar! You will be engaging in live conversations with real human beings. Expect to be heard and seen throughout 🙂
Your Facilitator
Lisette is a remote-working German-born American living in the Netherlands who is totally jazzed by the fact that it's possible to work from anywhere. In fact, it's not just possible; it's completely, productively workable—if you do it right.
Lisette has given presentations at a wide range of events, from conferences and Meetups all over the world to a TEDx talk in Kaunas, Lithuania.
She is also a member of the Transatlantic Expert Group on the future of work for the German Marshall Fund of the United States (GMFUS).
What others have said about Lisette:

"Lisette reminded me how much can be put into a properly planned and expertly driven session. She role-modelled what an expert facilitator can bring to the table.

Everyone talked and contributed as we touched on the importance of team norms, diversity of needs, and how we can take care of ourselves to thrive in a setup that almost no one was ready to enter."


- Francesco Bianchi, Visual Coach & Agile Thinker

***

"By far the best online course I have ever participated in. It was extremely well organized, described & facilitated. You were not left alone for any longer than 5 minutes, so there was no unusable downtime. The organizer went out of her way to integrate everyone into the course, and my learnings were substantial."


- Participant from Simcorp

***

"I feel that the course is more an experience than a course. It allows participants to experience what it means to work together anywhere."


- Stephan Huez, Founder and Change Maker at Wiser Hare sprl

***
More attendee feedback: https://www.collaborationsuperpowers.com/trainer-list/trainer-profile/?id=28&full_name=Lisette%20Sutherland
Online
September 21, 16:00 — 18:00 CEST